Karl.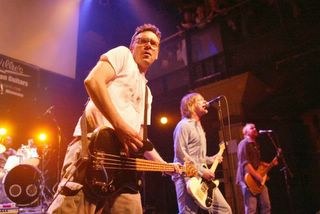 i was a huge Soul Asylum fan when i was a teen.
the first thing i heard was "While You Were Out" which i got at the library when i was 14 or 15. it had a ridiculous cover, was produced to sound pretty loud and it was grunge way before it was a word. i was hooked.
from then on i missed very few chances to see Soul Asylum if i could help it. i wasn't of age but fortunately they always played a ton of all ages audiences. some out door shows and plenty of sweaty shows in the Mainroom. i thought they were the coolest band in the world. a bit more consistent and tight than the Replacements and more melodic than Husker Du.
i never knew Karl but i suppose i met him and the band once. i actually show up as a wee lad in a documentary about them.
anyway. it's a bummer
Karl
is gone.