knock knock knockin'.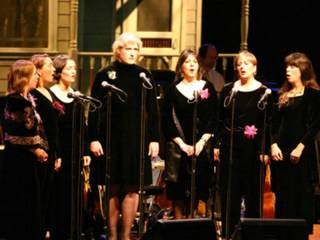 man. on
Praire Home Companion this weekend
my old friend, Jana, and the
Mila Vocal Ensemble
she sings with performed with Garrison and Crew.
it was something else!
Mila used to be part of the
Ethnic Dance Theatre
group in Minneapolis.
they do some amazing things. being as true to ethnic traditions as possible, often right down to the thread count in thier costumes, schooling and entertaining audiences at the same time. i always admired the passion theses gals had about singing this really difficult style of music.
on the show this weekend they did some traditional European folk stuff, Bulgarian and Ukrainian, i believe. then later in the show they did some back-ups with Pat Donahue on a moving version of "Knockin' on Heavens Door", singing in Ukrainian!
yow! gave me goose bumps!
word is they have been invited back in the spring or summer sometime.
big ups Mila!